---

Music

I'm not sure if there is a meaning of complete translation this page to english. You can find here mainly czech and slovak music. I like a lot of different music styles and I play the acoustic quitar.


Songs which I like I've arranged to a songbook which you can download. Only the first part is completed.
If you will miss a song here you can look for it in OLGA

or Doug's songbook

. There you'll find what you look for.
---
Next songs are in my songbooks but not well ordered, so I've decided to put them to the following table. There is only czech and slovak music. My CD index you can see here.
My musical instruments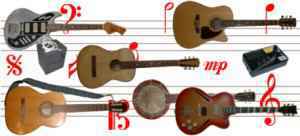 Would you fancy to look at my instruments? They are old but mine...

If you have an untunable guitar don't give up and look at my page with a description of POSSIBLE improvement.